I hate to fly. All the fun of flying took off somewhere around 1987. We've been on a downward spiral of crumb encrusted shrinking chairs and tasteless pretzels served with 1/2 cup of water ever since. I took my first flight in 1985 on Eastern Airlines as part of a long journey with my grandparents to Tucson to visit my great uncle Mr. B. I remember china, silverware, and smoking on board. I felt to be totally glamourous, at the tender age of 10.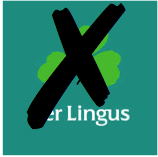 I don't expect much. I expect to be tortured by my seat (read this article about how the average 17″ wide airline seat is based on male hips from the 1960s), and possibly by my large and/or overly chatty neighbor. I like to bring my laptop and work, but that has increasingly required my elbows to be splayed at odd angles in order to reach the keyboard, and yet not run into my neighbors. Whenever the flight attendant gives the spiel about "we hope you enjoyed your flight," I wonder "why bother?" Nobody enjoys flying anymore.
I don't like Delta. I hate United. I'll choose Southwest (or more likely, Amtrak) if I need to go somewhere. But I can helpfully suggest to ignore Aer Lingus on your next flight search.
Our first plane was struck by a bird. These things happen. We had a three-hour delay as we switched planes, and we missed our connecting flight. The rebooking desk in Dublin had our new flight tickets ready to go when we arrived – we realized later that they obviously had a lot of experience doing this.
On our way home, there was one clerk checking in the flight at Paris, leading to a 100 person queue through Terminal 1. Our flight was 40 min. late (what caused that – yes, another bird strike!), but they held our JFK flight in Dublin. You pre-clear US Customs in Dublin, but have to go through 2 more rounds of security (feeling the love there, Ireland) before boarding the plane. We arrived and realized that our original seats had been changed so we had been separated.
But nothing topped the cake like the EI 109 flight attendants. They don't answer bells, at least they didn't answer mine. I found them chatting it up in the galley, and they actually shrugged when I said I called them. They didn't feed Dr. V – they just skipped him. They gave snark when he called them to ask for his meal, and flung a beef meal at him. Yup, flung. No apologies.
Of course our luggage didn't make it on the flight, but it didn't make it on the next flight either. The JFK staff was supposed to call to set a delivery time, but Thursday evening I got a phone call saying "yeah, I'm outside with your bags." I replied "I"m at work, and you are going to have to wait 20 min." "Uh, let me see if that's okay with my supervisor."
I was reading the history of Aer Lingus on my in-flight entertainment system (which didn't work for Dr. V on our first flight over, because for some reason the purser kept restarting it throughout the flight), and it seemed like a string of ill-planning, overextension, and near bankruptcies. I wish they'd just get on with it, and go out of business.