Historical research is like sketching. You begin with a few pieces of data, allowing you to make some bold strokes on a piece of white paper. You identify what sorts of primary resources will improve that image, and it redirects those original lines, lending them further shape. You may find your original lines terrible and embarrassing. The exercise is  not to simply connect the dots, as there is still a lot of interpretation required on the artist's/historian's part to bring the clearer picture into view. Between the dots are infinite shades of gray, while each bit of data requires contemplation, acceptance, and often, discomfort on the part of the historian.
I roll over this analogy in my mind as I work with my study of 1,000 runaway indentured and enslaved women and their 6,000 garments, which I've cataloged in a database. See my Textile History article on the Runaway Clothing Database project and a post featuring repeat runaway Eleanor Farrell here.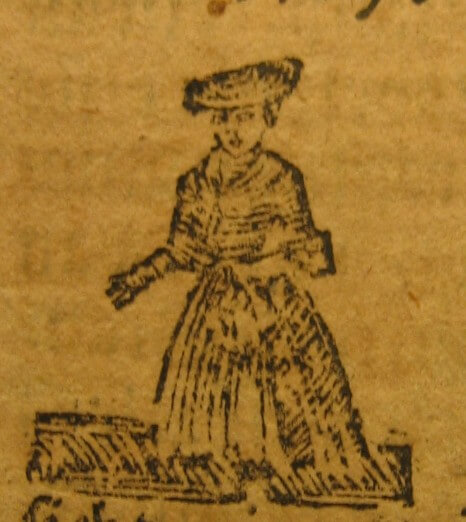 One of the aspects of the project is to better understand working women's participation in the shift in fashion, 1750-1790. For decades, many working women were assumed to have worn shorter jackets and short gowns because they required less fabric and allowed the worker to labor more easily, without the skirts of the gown. Data from the Runaway Clothing Database indicates that the picture is more complex. We put down the broad brush, and pick up a smaller one to paint a more finely detail picture.
The data shows that for the whole period 1750-1790, gowns were worn in equal amounts to all other shorter garments. But when you compare 1750-60 with 1780-90, it becomes apparent that shorter garments become more popular with working women toward the end of the focus period.
Now for a parade of pie charts! As a reminder, the populations represented in this study are overwhelmingly mid-Atlantic, with a good showing from the South. Less than 5% of the samples are from New England (the area did not participate heavily in the indentured servant trade and suffered a labor shortage in the late 18th century). I'm not going to get into a discussion here about garment terminology, but do note that "gown (short)" indicates those garments described "short [modifier] gown," such as "short red Gown." Note that many shorter garments had different regional labels (wrappers, josies) even if they might have been the same bed gown-like garment. Please note, if you would like to use this data, please quote me and the Runaway Clothing Database. (it helps to talk to me too, if you want more info!)
While the two samples for 1750-60 and 1780-90 are small, they are somewhat similarly sized. Interestingly, comparing indentured and enslaved populations also provides contrasts that enhances what we know about the assignment of clothing to enslaved women. European servants wore more full length gowns, while African enslaved women wore almost 30% more jacket length garments.
This data can be analyzed infinitely, and as every historian knows, the variables and inconsistencies can drive you mad, but it's a start to using that finer brush to study how working women made choices about their dress.