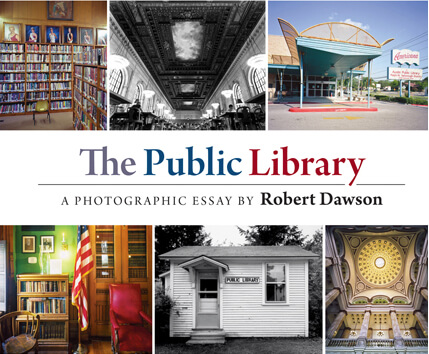 Last night I read The Public Library, A Photographic Essay by Robert Dawson. I didn't borrow it from my public library, which is the Carnegie-built Webster branch of the New York Public Library. It's at the end of my street and used to have a Czech reading room on the 3rd floor for the turn of the century residents of Yorkville. Instead, I borrowed it from the New York Society Library, a much older institution, one that is technically available to the public, but for a yearly fee. George Washington forgot to return a book to them in 1789 (Mount Vernon bought them a replacement copy in 2010 for $12,000), as I had The Public Library. I figured I had better enjoy it quickly – there is something wrong about keeping a book entitled The Public Library past its due date.
Robert Dawson's photos capture mostly historic structures, grand and modest, still lively or woefully abandoned. If you value libraries, you'll enjoy the short, personal reflections offered by Amy Tan, Barbara Kingsolver, and Bill Moyers. I delighted in the architecture of that enshrined the importance of these secular community spaces meant to spur on advancement. You will mourn deterioration of the community pursuit of intelligence in viewing images of broken Detroit libraries and structures shuttered. If you didn't realize it before, libraries have to stand in when crisis strikes, such as the impact of Hurricane Sandy on the Queens Library system and how libraries provide daytime shelter for the homeless and mentally ill, as social services shrink for those populations. The news today focuses on the modest Ferguson, MO library, which has committed to staying open through protests and a site for solace and centering. Dawson's photographs capture libraries growing into spaces where they did not exist before, into banks, gas stations, failed big box store spaces. I want this to be a visible sign that our need for knowledge, information, and ready access to people of all walks of life is still well and healthy. When the public library is left to wither, so do our opportunities.
I love a library, and the books within (read my post Stack Lurker: Some Love for Libraries). You are surrounded by ideas in physical form, which you might bring with you, to absorb, one by one, again and again.