An orange not seen in nature.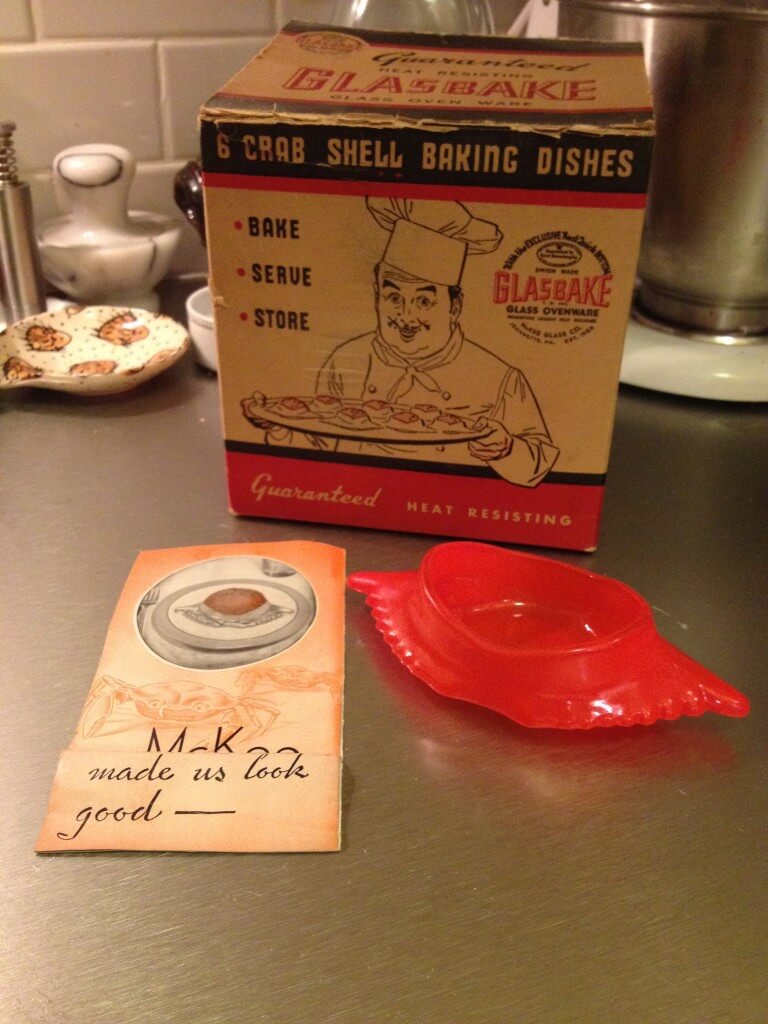 These 1950s McKee Glass Company "Glasbake" crab baking dishes were intended for deviled crab. Interestingly, in my go-to historic Maryland cookbook Fifty Years in a Maryland Kitchen, deviled crab is nothing more than crabmeat slipped back into its shell with butter and breadcrumbs. The recipe warns not to leave the stuffed shells in the oven too long as the lime from the shells would begin to leach into the crabmeat.
Hence the "Distinction, Sanitation, Satisfaction." The pamphlet elaborates inside: "Sanitation Without A Fault / Service in a Glasbake Crabshell will give a tastier-looking deviled crab and eliminate the hazard of uncleanliness."
McKee operated in Jeanette, PA (known as "Glass City") from 1853 until 1961, when they sold all holdings to the Jeanette Glass Company. Jeanette Glass closed its doors in 1983.
Here's the Deviled Crab recipe from the pamphlet:
Recipe for Deviled Crabs
1 teaspoon dry mustard
1 teaspoon salt
1/4 teaspoon pepper
1 cup milk
2 hard boiled eggs, minced
1 lb. crabmeat
4 tablesppons butter
3 tablsppons flour
1 tablespoon mince dparsley
2 teaspoons lemon juice
1/2 cup bread or cracker crumbs
Melt butter in sauce pan, add flour, stir until smooth; add parsley, mustard, lemon juice, salt, pepper, milk and stir until smooth. Add crabmeat and eggs, and sitr until well mixed. Remove from heat, and when cool enough to handle, place mixture in six Crabshell Baking Dishes. Sprinkle with Bread crumbs, and bake in hot oven until brown on top, or if preferred they may be broiled under very low flame. If you wish them to be extra rich in flavor, dot each crab with butter.
Note: as a tidewater Marylander by descent – we never ate deviled crab!