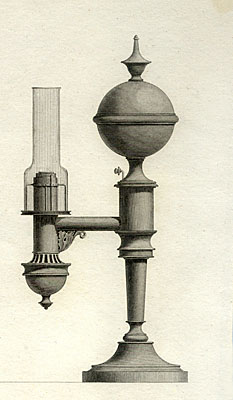 Barbara Carson was one of my professors in The George Washington University's M.A. program in Museum Studies. I took her American Decorative Arts and Time and Light in the Decorative Arts courses, and was sorry I didn't get to take her dining class – she hadn't developed it by the time I graduated in 1999.
She passed away this year, and today they are holding a memorial concert in her honor in Williamsburg. Barbara lived there with her husband Cary Carson, another noted scholar of American material culture and former vice president of Colonial Williamsburg Foundation.
Barbara allowed me to study costume as a decorative art. While other professors  scoffed, she understood that women and their dress often formed part of the accepted fashion within the public rooms of Well-to-do houses. They were mobile extensions of ornament. Where others were skeptical, Barbara was encouraging.
Whenever I see an Argand Lamp, the oil lamp invented by Aime Argand in 1780 that improved combustion and therefore lessened the need for snuffing the wick, I think of Barbara. Thank you.