I conjure Siracusa, and bite my lip. It's wonderful.
Layers of civilization created this hauntingly beautiful city on the southeast coast of Sicily. Remnants of Greek, Roman, and European pasts overlap. Pots of flowers sat on the streets around doors into houses. I visited there in 2007. Forget the Coliseum and Dionysus's Ear, which are located nearby. The town is enough.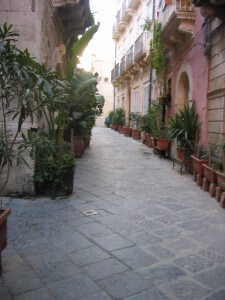 I had a wonderful conversation with the owner of a design shop, with very few words. I speak no Italian, and he had no English. I was able to say I had "due camera" (two rooms) in New York. Still, he spent an hour at dusk showing me his shop, and the wonderful kitchen furniture he sold.
The breakfast at the Hotel Roma in Siracusa was the best of our trip, as I wrote in my notes: "Croissants filled with honey and cereals, almond cream tart, hard boiled egg, cappuccino, pineapple juice, didn't try half of the stuff, [the breakfast table] included German and English breakfast nods, aufshcnitte et scrambled eggs. Another cappuccino."